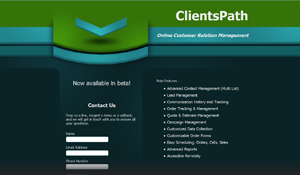 ClientsPath is a web based customer relation management software introduce in beta in spring 2012 with full launch projected by summer 2013.
ClientsPath features a fully customizable platform that allows the users to easily collect and display any client data they need. Clientspath also includes other features such as Communication Tracking, Estimates, Orders, and Campaign Management.
Built as a tool to help small to mid-size business organize their workflow, better manage their marketing efforts and digitize all their paperwork.
Services rendered include:
Conceptualization, database and program design
Development and Programming of the software
Design and Programming of an advanced user interface
Training and Support